Defensible Space Requirements
Make your home fire safe by having a defensible space. A defensible space of 100 feet around your home is required by law. It protects your home while providing a safe area for firefighters.
1

Hardscape or Limited Zone

Continuous hardscape or limited fire-resistant plantings in the first 5 feet from an exterior wall surface around your home. Vegetation should not exceed 6 to 18 inches in height and irrigation is required.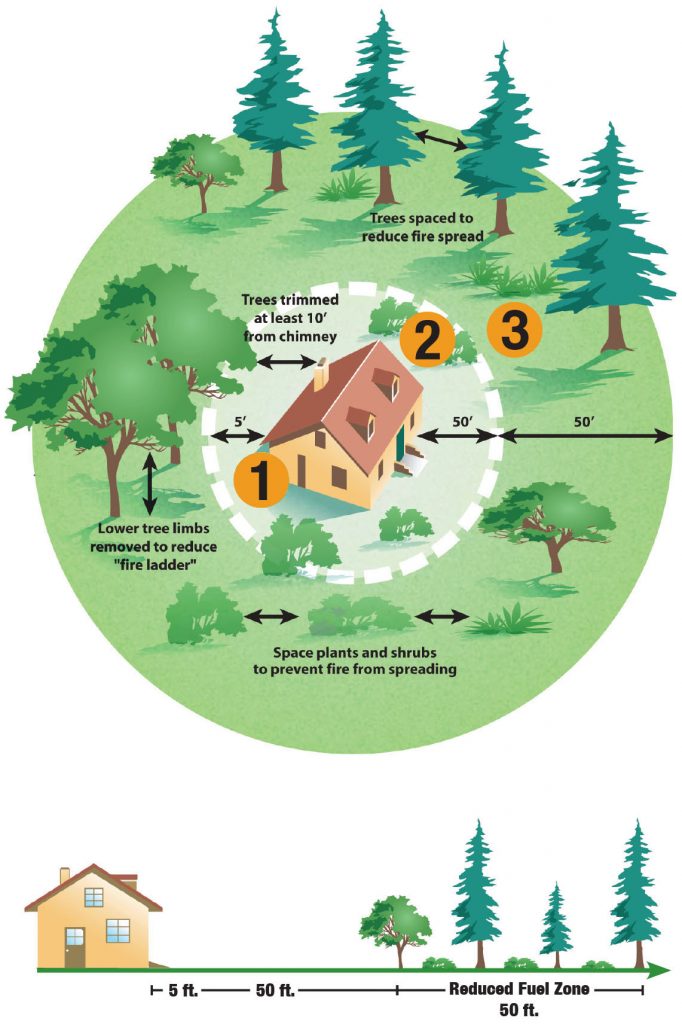 2

Lean, Clean and Green Zone

Lawn, weeds and other landscaping in the first 50 feet around your home should be mowed and properly maintained.

Thinning and pruning the brush and trees in the first 50 feet around your home is critical.

Clean all needles and leaves from your roof and gutters.

Trim tree limbs at least 10 feet from chimneys, and remove dead branches hanging over your home or garage.

The law requires a screen over your chimney outlet of not more than 1/2 inch mesh.
3

Reduced Fuel Zone

Create horizontal and vertical spacing between plants to improve your chance of stopping a wildfire before it destroys your home.

Remove lower tree limbs to reduce the risk of a vertical fire ladder.
Defensible Space Inspection for Home Sales
A defensible space inspection is required for all homes that are sold and located within a "high" or "very high fire severity" zone in the State of California in accordance with Assembly Bill No. 38. The inspection will determine if the property being sold is in compliance with all local ordinances.
The Lakeside Fire Protection District has enacted a defensible space ordinance, which can be found in the County of San Diego Consolidated Fire Code. All home sales that occur within the Lakeside Fire Protection District are the primary responsibility of the District and a request for inspection can be made through an online public portal.
Interested in learning more about defensible space?
Not only is having a defensible space required by law, but it plays a vital role in the protection of your family and home. You can learn more about defensible space by visiting San Diego County Fire Authority and Fire Safe Council of San Diego County. You can also download a defensible space flyer and a vegetation clearing FAQ sheet by clicking the buttons below.